About this museum
Kagoshima Modern Literature Museum
Featuring Authors Related to Kagoshima
The museum features 28 authors related to Kagoshima as well as literature that is set in Kagoshima—viewed in various aspects. At "Literature Atelier" hands-on exhibit, you can get familiar with literature in a fun way.
Passion of Authors Related to Kagoshima
Permanent exhibition on the first floor
The collection features the creativity and passion of selected five authors related to Kagoshima—through dioramas, literary materials and personal effects—under various themes.

Kaionji Chogoro (1901-1977) Historical Novelist
Hayashi Fumiko (1903-1951) Novelist
Muku Hatoju (1905-1987) Children's Literature Writer
Umezaki Haruo (1915-1965) Novelist
Shimao Toshio (1917-1986) Novelist
Literature Atelier
Permanent exhibition on the first floor
Word Atelier

Touch the screen and dive into the vast world of words, or enjoy and express yourself using an electronic blackboard!
Book Square

Relax and enjoy the masterpieces of authors related to Kagoshima, the latest bestsellers of our choice, or the works of the winners of "Muku Hatoju Children's Literature Award".
Variety of Authors of Kagoshima Literature
Permanent Exhibition on the Second Floor
The exhibition features 22 authors related to Kagoshima. Permanent collection is exhibited and special exhibitions are regularly held with various themes.

Arishima Takeo, Arishima Ikuma, Satomi Ton, Nobori Shomu, Yamamoto Sanehiko, Koki Tetsutaro, Hirabayashi Hyogo, Tsumaki Shimpei, Isshiki Jiro, Kuroda Saburo, Hatta Tomonori, Saisho Atsuko, Kuroda Kiyotsuna, Takasaki Masakaze, Yoshii Isamu, Manzouji Hitoshi, Morizono Tenrui, Sugita Hisajo, Yamaguchi Seishi, Shinohara Housaku, Tougo Sayuu, Fukunaga Kouji
The World of Mukoda Kuniko
Permanent Exhibition on the Second Floor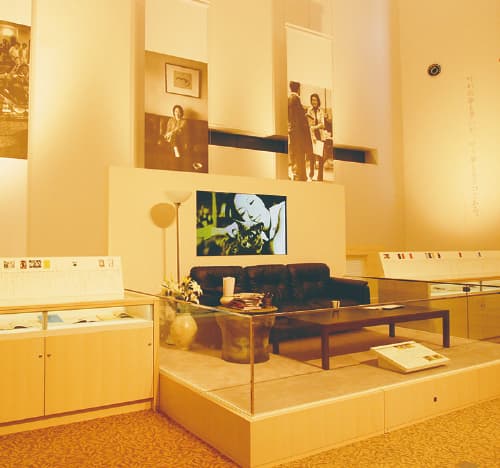 Mukoda Kuniko was a writer who despite spending only two years of her childhood, cherished her lifelong love for Kagoshima and called it her "pseudo hometown". We have created a space where you can indulge in reminiscence of Mukoda Kuniko, whenever you visit here. Enjoy learning about her lifestyle full of charm as well as a broad range of her works—scripts, novels and essays. Explore the reproduced living room that she loved and the audio-visual corner, where you can enjoy the video and audio about the writer.
Floor Map
Library (admission free)

The library collects books and magazines themed on literature.
The collection includes works and research papers of exhibited authors, literary works, and coterie magazines published in Kagoshima as well as children's books related to Kagoshima. Read and enjoy our collection.
(*Books are not available for checkout)
---
Kagoshima Marchen Fairy Tale Museum
Let's explore the world of "Marchen" fairy tales!
At Kagoshima Marchen Fairy Tale Museum, a place filled with trick arts and mini athletics, you can play and enjoy the world of "Marchen" fairy tales. *"Marchen" is a German word for "fairy tales". At "Picture Book Castle", you can enjoy a variety of picture books in a floating reading corner in the air.
Promenade of Stories
Third floor
Explore the world of trick art! Trick art was originally born in Europe as "trompe l'oeil". Enjoy the world of Alice's Adventures in Wonderland.
Picture Book Castle
Third floor
Picture books of our choice are displayed in one place. Have a look and read your favorite picture books in our "Picture Book Room".
Story Town
First floor
xplore a fairy tale-themed house that would appear in stories like Hansel and Gretel. Enjoy and play with other children! Have a fun time in the world of fairy tales with "Bean Tree Athletics" inspired by Jack and the Beanstalk, or "Card Tunnel" featured with card soldiers appearing in Alice's Adventures in Wonderland.
Story Wagon and Story Trunk
First floor
Grab your favorite costumes and accessories and transform yourself into "Tinker Bell" of Peter Pan or a witch, a beloved villain of the story!
Mysterious Mirror
First floor
Stand in front of the mirror and transform yourself into one of the favorite characters of fairy tales in no time! Dare to be surprised to see what would appear in the mirror!
Wakuwaku Studio
First basement floor
We will create our own story in "Create Our Own Picture Book" session. What kind of story will it be? Dare to be surprised!
"Create Our Own Picture Book" session
①10:00-10:20
②10:40-11:00
③11:40-12:00
④13:05-13:25
⑤13:40-14:00
⑥14:40-15:00
⑦15:20-15:40
⑧15:55-16:15
⑨16:40-17:00

The session takes about 20 minutes.
Approximately 70 seats are available.
Doll Exhibition Corner
First basement floor
We exhibit dolls gathered from around the world— ethnic dolls of various countries, regional toys throughout Japan, nostalgic tin toys and mechanical toys.
Floor Map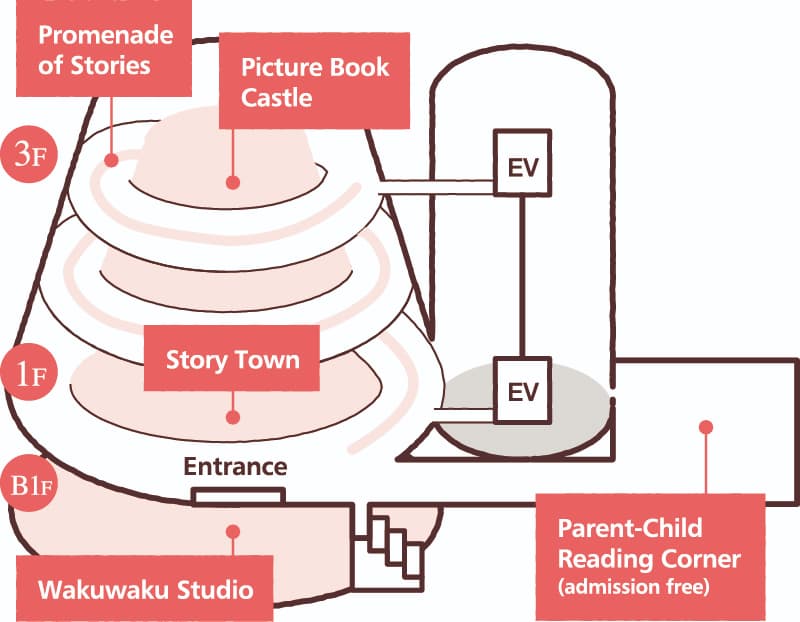 Parent-Child Reading Corner(admission free)

Parents and children can relax and enjoy reading together. Read-aloud sessions for children are held regularly.

Story Time (for babies and toddlers) Every Monday 11:00 – 11:30
Picture Book Time (for toddlers) Every Saturday* 14:00 – 14:30
(*except second Saturday of the month)
Fairy Tale Story Time Second Saturday of every month 14:00 – 14:30
Marionette Clock

The marionette clock performs on the hour with music from 9:00 to 18:00. Enjoy the dance performance of the dolls.